Large rug No. 71120 Kerman Lavar Iran 510 x 350 cm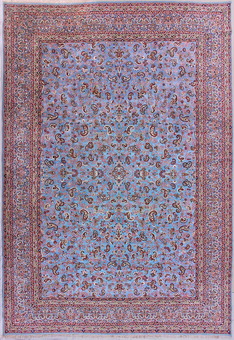 Larger images (will open in new window)
Please click on the thumbnails below for a larger view
main view

Item Number:
71120
Name:
Kerman Lavar
Country of Origin:
Iran
Size:
510 x 350 cm
Age:
Sorry, we can't give you the age of this carpet at the moment.
Pile:
wool
Design:
floral / allover
Ground Color:
light blue
Remarks:

This is a unique handmade / hand-knotted / traditional oriental carpet

The pile of this carpet is made of wool

Kerman Lavar Sherkat

The main element of this carpet design is the Botteh pattern, and in its smaller version: Mir design, in the West known as Paisley design. The Botteh motif is depicted in the shape of a teardrop and represents fertility and eternal life. It is often found in carpets from Kerman in Iran, India, and antique Caucasian rugs. The word Botteh comes from the Persian word for bush.

add to cart
More about the provenance Kerman Lavar | Iran
Kerman is the capital city of the province of the same name. Kerman rugs have already been mentioned by the secretary of Shah Abbas I. (1587-1629) who spoke of "rugs with gold and silber threads". There are Kerman rugs preserved to this day since the 16th century throughout each century. Since the end of the 19th century until today Kerman with its large and esteemed rug manufactories is considered to be one of the most significant carpet production centers of Iran. Kerman is probably the only larger city of Iran whose population in its majority lives of carpet production. The most famous of the ca. 30 villages around Kerman in which rugs are made is called Ravar. Merchants from Kerman have ordered specifically high quality rugs with rich figural and floral designs to be made in Ravar (Millefleurs), therefore being called Kerman Ravar (or more common "Lavar"). The Kerman Lavar rug is often described as the "King of the carpets - the carpet of Kings". The Persian knot is used making them as opposed to the more spread Turkish knot which is more often used with Persian rugs.