New Handmade oriental carpet No. 70983 Afghan Afghanistan 360 x 271 cm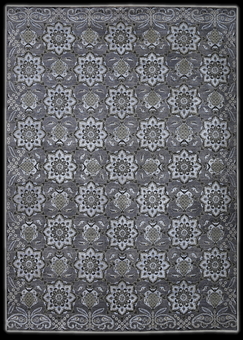 Larger images (will open in new window)
Please click on the thumbnails below for a larger view
main view

Item Number:
70983
Name:
Afghan
Country of Origin:
Afghanistan
Size:
360 x 271 cm
Age:
new
Pile:
wool
Design:
floral and geometric / allover
Ground Color:
gray / silver
Knots per sqm:
140,000
Remarks:

This is a unique handmade / hand-knotted / modern / contemporary carpet

The pile of this carpet is made of wool

This carpet has a total of approximately 1,366,400 knots and it took skilled carpet makers about 1,822 hours or 202 working days to knot this carpet.

add to cart
More about the provenance Afghan | Afghanistan
The Afghan rug belongs to the group of Central Asian rugs. The expression "Afghan" stands for Afghani rugs which are made in the areas of the production centers Aqcha, Andkhoi and Kunduz in the Northern province of Turkestan. The Afghan rug is made by members of the Turkmen tribes who either settled down in that area or who are Half-Nomads. They are made with horizontal looms which is very rare. The main part of the significant production comes from the domestic works of settled peasants, but some also from manufactories or nomadic production.