Antique handmade oversize carpet No. 71142 Oushak, ca. 1890 Turkey 762 x 274 cm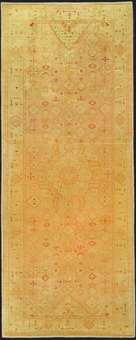 Larger images (will open in new window)
Please click on the thumbnails below for a larger view
| | | | | |
| --- | --- | --- | --- | --- |
| main view | second total | close-up border | close-up | close-up medallion |
| | | | | |
Item Number:
71142
Name:
Oushak, ca. 1890
Country†of†Origin:
Turkey
Size:
762 x 274 cm
Made:
ca. 1890
Pile:
wool
Design:
floral and geometric / little medallion
Ground Color:
rosť / turquoise / aquamarine / light green
Remarks:

This is a unique handmade / hand-knotted / traditional oriental carpet

The pile of this carpet is made of wool

This carpet is in excellent condition despite its age.

add to cart
More about the provenance Oushak, ca. 1890 | Turkey
Oushak is located in Western Anatolia (Turkey). It has an old and famous carpet tradition. Oushak belongs to the pioneer cities of the Oriental rug. There are pieces from the 16th century in Turkish museums on display. In the 17th century Oushaks have been made in high quantities for the Christian churches, and court dynasties of Europe. great artists of that time immortalized Oushak rugs in their paintings and by this contributed to the history of the hand made Oriental rug. Some Oushak designs which had the yellow Arabasque design on red ground were named after painters like Hans Holbein and Lorenzo Lotto. Oushak is a provenance of unique history and significance.