Antique large rug No. 71122 Kashan Kork Iran 555 x 408 cm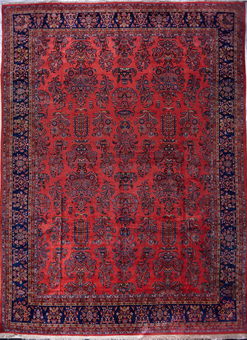 Larger images (will open in new window)
Please click on the thumbnails below for a larger view
main view

Item Number:
71122
Name:
Kashan Kork
Country of Origin:
Iran
Size:
555 x 408 cm
Age:
antique
Pile:
wool
Design:
floral / allover
Ground Color:
red / dark blue / navy
Remarks:

This is a unique handmade / hand-knotted / traditional oriental carpet

The pile of this carpet is made of wool

add to cart
More about the provenance Kashan | Iran
Kashan (also: "Keshan") is located in central Iran at the old Caravan Street which leads from Teheran to Kashan, Qum, Yazd, Kerman, then further to India and Pakistan. The peak glory time of Kashan was under the reign of the Safavids in the 16/17th century. Kashan rugs belong to the best classic Oriental rugs. Kashans are mostly woven with the Persian knot as opposed to the Turkish knot with which most Persian rugs are made.
In Europe the term for this kind of Kashan is "American Kashan". Of course "American" rugs are not made in America, they are re-imports from America to Europe. In the beginning of the 20th century up to the 1930s, certain rugs were made specifically for the American market and taste which had of course common characteristic designs and colors. These were apparently also much appreciated by Europeans which can be seen by their high popularity to this day.
The special wool with which this Oriental rug has been made is called "Kork" wool. The Persian word "Kork" means "soft down". This expression is used for particularly fine and soft wool for very high quality rugs, especially for expensive rugs made in esteemed manufactures like e. g. in Kashan. It is common to add the word "Kork" to the provenance name as in e. g. "Kashan Kork".