Antique handmade oversize rug No. 71044 Sarouk, ca. 1920 Kork Iran 582 x 310 cm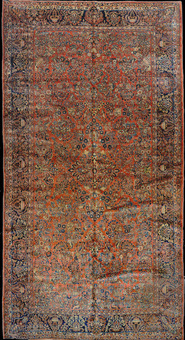 Larger images (will open in new window)
Please click on the thumbnails below for a larger view
main view

Item Number:
71044
Name:
Sarouk, ca. 1920 Kork
Country of Origin:
Iran
Size:
582 x 310 cm
Made:
ca. 1920
Pile:
wool
Design:
floral / allover
Ground Color:
red
Remarks:

This is a unique handmade / hand-knotted / traditional oriental carpet

The pile of this carpet is made of wool

This carpet is in perfect condition despite its age.

add to cart
More about the provenance Sarouk, ca. 1920 | Iran
Sarouk is located in West Iran, in the zone of production of Arak. The source of this important provenance has been in the village of Sarouk (also written Sarough) North of Arak. Sarouks are known to be of high quality. The pile is usually higher than the average Persian rug and therefore Sarouks are rather heavy and solid rugs, the wool being used is high quality durable wool.
The special wool with which this Oriental rug has been made is called "Kork" wool. The Persian word "Kork" means "soft down". This expression is used for particularly fine and soft wool for very high quality rugs, especially for expensive rugs made in esteemed manufactures like e. g. in Kashan. It is common to add the word "Kork" to the provenance name as in e. g. "Kashan Kork".