Antique Handmade oriental carpet No. 69831 Tabriz, antique Iran 297 x 201 cm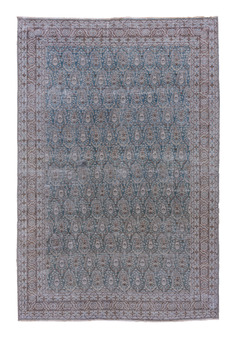 Larger images (will open in new window)
Please click on the thumbnails below for a larger view
| | | | | |
| --- | --- | --- | --- | --- |
| main view | Image 2 | Image 3 | Image 4 | Image 5 |
| | | | | |
| | | | |
| --- | --- | --- | --- |
| Image 6 | Image 7 | Image 8 | Image 9 |
| | | | |
Item Number:
69831
Name:
Tabriz, antique
Country of Origin:
Iran
Size:
297 x 201 cm
Age:
antique
Pile:
wool
Design:
floral / allover
Ground Color:
turquoise / aquamarine / blue
Remarks:

This is a unique handmade / hand-knotted / traditional oriental carpet

The pile of this carpet is made of wool

The main element of this carpet design is the Botteh pattern, and in its smaller version: Mir design, in the West known as Paisley design. The Botteh motif is depicted in the shape of a teardrop and represents fertility and eternal life. It is often found in carpets from Kerman in Iran, India, and antique Caucasian rugs. The word Botteh comes from the Persian word for bush.

add to cart
More about the provenance Tabriz, antique | Iran
Tabriz is the capital city of the province of Azerbaijan in North-West Iran. The city was founded by the Harun al-Rashid approx. in the year 800. Since the 17th century Tabriz is probably the most significant carpet-production-center of Iran. The finer Tabriz production is considered the best Persian productions in terms of quality and design.