Antique Handmade oriental carpet No. 69383 Khorassan, antique Iran 244 x 147 cm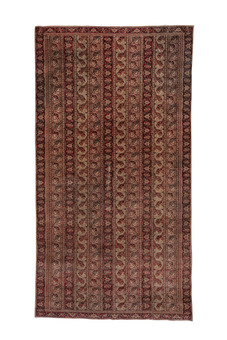 Larger images (will open in new window)
Please click on the thumbnails below for a larger view
| | | | | |
| --- | --- | --- | --- | --- |
| main view | Image 2 | Image 3 | Image 4 | Image 5 |
| | | | | |
| | |
| --- | --- |
| Image 6 | Image 7 |
| | |
Item Number:
69383
Name:
Khorassan, antique
Country of Origin:
Iran
Size:
244 x 147 cm
Age:
antique
Pile:
wool
Design:
floral / allover
Ground Color:
beige / red
Remarks:

This is a unique handmade / hand-knotted / traditional oriental carpet

The pile of this carpet is made of wool

The main element of this carpet design is the Botteh pattern, and in its smaller version: Mir design, in the West known as Paisley design. The Botteh motif is depicted in the shape of a teardrop and represents fertility and eternal life. It is often found in carpets from Kerman in Iran, India, and antique Caucasian rugs. The word Botteh comes from the Persian word for bush.

add to cart
More about the provenance Khorassan, antique | Iran
The translation of "Khorassan" from the Persian language means "land of the rising sun". Khorassan is a province in North East Persia with Mashad as its capital. In the South of Khorassan you have deserts and North of it mountains. Khorassan is an expression for the rugs coming from througout the province like e.g. from Mashad, Birjand or Kashmar. Even until way into the 20th century rugs have been called Khorassan generally not differenciating between the single provenances. One common characteristic of Khorassan rugs is a certain red which goes into bordeaux, generous medallions and a particularly soft wool material being used. Altogether Khorassan rugs are high quality rugs with an important tradition.