Antique large rug No. 69376 Amritzar, antique India 732 x 277 cm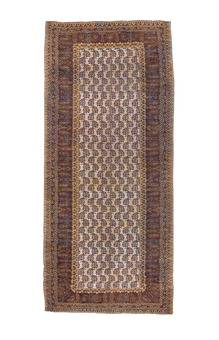 Larger images (will open in new window)
Please click on the thumbnails below for a larger view
| | | | | |
| --- | --- | --- | --- | --- |
| main view | Image 2 | Image 3 | Image 4 | Image 5 |
| | | | | |
| | |
| --- | --- |
| Image 6 | Image 7 |
| | |
Item Number:
69376
Name:
Amritzar, antique
Country of Origin:
India
Size:
732 x 277 cm
Age:
antique
Pile:
wool
Design:
floral and geometric / allover
Ground Color:
beige
Remarks:

This is a unique handmade / hand-knotted / traditional oriental carpet

The pile of this carpet is made of wool

The main element of this carpet design is the Botteh pattern, and in its smaller version: Mir design, in the West known as Paisley design. The Botteh motif is depicted in the shape of a teardrop and represents fertility and eternal life. It is often found in carpets from Kerman in Iran, India, and antique Caucasian rugs. The word Botteh comes from the Persian word for bush.

add to cart
More about the provenance Amritzar, antique | India
The city of Amritsar is located at the border to Pakistan and it is a holy city of the Sikhs. The name has its origin in "Amrita Saras" which means "holy pond". It is the name of the sea in the holy Golden Temple of the Sikhs. Amritsar gained importance as a carpet producing area in the year of 1840. Carpet makers from Kashmir brought their traditional techniques and designs to Amritsar. Therefore Amritsar rugs were made using Kashmir technique and first class wool. The designs mostly follow the Indo-Iranian tradition.