Antique handmade oversized carpet No. 69183 Tabriz, ca. 1920 Iran 493 x 345 cm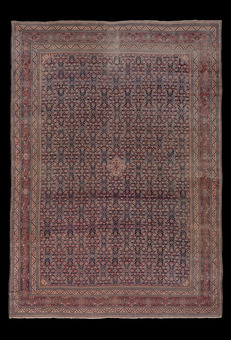 Larger images (will open in new window)
Please click on the thumbnails below for a larger view
| | | | | |
| --- | --- | --- | --- | --- |
| main view | second total | close-up | colours | close up of detail |
| | | | | |
| | | |
| --- | --- | --- |
| close-up medallion | pile | back |
| | | |
Item Number:
69183
Name:
Tabriz, ca. 1920
Country†of†Origin:
Iran
Size:
493 x 345 cm
Made:
ca. 1920
Pile:
wool
Design:
geometric / little medallion
Ground Color:
dark blue / navy / rust / rosť
Remarks:

This is a unique handmade / hand-knotted / traditional oriental carpet

The pile of this carpet is made of wool

This carpet is evenly thin.

add to cart
More about the provenance Tabriz, ca. 1920 | Iran
Tabriz is the capital city of the province of Azerbaijan in North-West Iran. The city was founded by the Harun al-Rashid approx. in the year 800. Since the 17th century Tabriz is probably the most significant carpet-production-center of Iran. The finer Tabriz production is considered the best Persian productions in terms of quality and design.
This Tabriz, ca. 1920 has a "Herati" or "Mahi" design (has its origin in Herat, ca. 16th century, short for "Mahi to Hos" meaning "fish in the pond"). A rosette is surrounded by a rhombus which is again surrounded by four bent leaves. The name "Mahi" meaning "fish" was given to this design because the leaves resemble swimming fish.