Antique large rug No. 68258 Saraband, ca. 1910 Iran 475 x 224 cm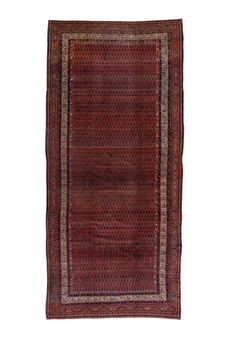 Larger images (will open in new window)
Please click on the thumbnails below for a larger view
| | | | | |
| --- | --- | --- | --- | --- |
| main view | Image 2 | Image 3 | Image 4 | Image 5 |
| | | | | |
| | |
| --- | --- |
| Image 6 | Image 7 |
| | |
Item Number:
68258
Name:
Saraband, ca. 1910
Country of Origin:
Iran
Size:
475 x 224 cm
Made:
ca. 1910
Pile:
wool
Design:
floral and geometric / allover
Ground Color:
red
Remarks:

This is a unique handmade / hand-knotted / traditional oriental carpet

The pile of this carpet is made of wool

The main element of this carpet design is the Botteh pattern, and in its smaller version: Mir design, in the West known as Paisley design. The Botteh motif is depicted in the shape of a teardrop and represents fertility and eternal life. It is often found in carpets from Kerman in Iran, India, and antique Caucasian rugs. The word Botteh comes from the Persian word for bush.

add to cart
More about the provenance Saraband, ca. 1910 | Iran
Saraband is located in West Iran and belongs to the carpet weaving area of Arak (former Sultanabad). The Saraband rug is one of the most popular Persian rugs which has hardly been changed over the decades. The most frequent design is the Mir-pattern which has its name from the nearby village of Mal-i-Mir though today the Mir rug is produced in wider areas around Arak.