Semi-antique square Handmade oriental carpet No. 40570 Mashad, ca. 1965 Iran 301 x 293 cm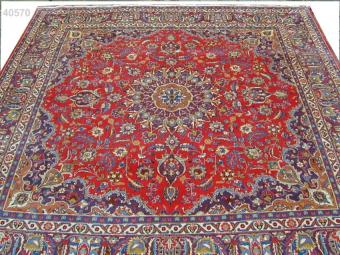 Larger images (will open in new window)
Please click on the thumbnails below for a larger view
| | | | |
| --- | --- | --- | --- |
| main view | close-up | close-up of corner | back |
| | | | |
Item Number:
40570
Name:
Mashad, ca. 1965
Country of Origin:
Iran
Size:
301 x 293 cm
Made:
ca. 1965
Pile:
wool
Foundation
(warp and weft):
cotton
Design:
floral / medallion
Ground Color:
red
Knots per sqm:
200,000
Remarks:

This is a unique handmade / hand-knotted / traditional oriental carpet

The pile of this carpet is made of wool

Signature, good condition, used

This carpet has a total of approximately 1,764,000 knots and it took skilled carpet makers about 2,352 hours or 261 working days to hand-knot this carpet.

add to cart
More about the provenance Mashad, ca. 1965 | Iran
Mashad is located in North East Persia in the province of Khorassan, the antique name of this city is Sanabad. Mashad is a desired place of pilgrimage, especially for those who cannot afford to go to Mekka. Whoever made it to Mekka is entitled to be called "Haji" wheras people who made the Mashad pilgrimage are entitled to be called "Mashadi". Nadir Shah made Mashad the capital in 1736. The Mashad rug belongs to the main provenances of Iran's rug industry. The typical characteristics of Mashad rugs are the precise, delicate and fine compositions of the designs and the typical Mashad-red which can be described as a deep dark red with a slight tendency towards purple. Esteemed carpet manufactories were founded in Iran - like of the late great master Makhmal(baf). The tradition of those famous manufactories has been taken on by countless little manufactories now active in Mashad. The typical wool of Mashad rugs has a certain shine and is rather soft, the pile is higher than average.